What will I miss most about Hillary Clinton after she is forcibly removed fades from the national spotlight following the Democratic National Convention?
It would have to be those smart pantsuits, which are featured in this month's issue of Glamour magazine.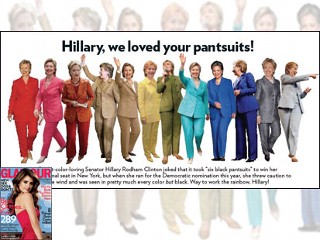 According to Clinton's most famous television ad, she even wears them at 3 AM.
You don't find many public personalities willing to commit to one style of clothing for life. Hillary's attachment to pantsuits is Jay Leno-esque.